Commercial Insurance Claims for Winter Storm Damage
What if heavy snow overwhelmed your building's rooftop and caused it to collapse? Or freezing temperatures caused a pipe bursting, leading to water damage and mold? If your commercial property suffers winter storm damage, it does not have to bring down your business.
To maximize your recovery after a winter storm, it's important to properly document the various kinds of winter storm damage your property suffered and to know what winter and snow damage your commercial insurance policy covers.

Your commercial property can experience a range of winter storm damage. For instance, heavy snow can cause a roof collapse. If your business is impacted by pipes freezing in winter or pipes bursting in winter, you may also suffer from water damage and possibly mold. Even space heaters, when incorrectly connected and positioned in the office, can spark fire damage. If the unexpected happens, your insurance company's team will have their own interpretation about the extent of the property damage and what is covered in your commercial insurance policy. Shouldn't you have an expert on your side representing only your interests?
Our professional public adjusters are there to lift that burden from beginning to end in your winter storm damage or snow damage insurance claim process. We work only for you, not the insurance company. Our expert public adjusters help business owners like you every day in Washington, Alaska, and Idaho from our offices in Seattle, WA, Anchorage, AK, Boise, ID and throughout the U.S. We level the playing field with our unmatched expertise and resources in evaluating, documenting, and negotiating your insurance claim for the maximum amount so you can get back to business sooner.
The Adjusters International Pacific Northwest Offices
What To Focus On After Winter Storm Damage
Make sure you fully understand the meaning of each of the following before you move forward. Feel free to reach out to us for a no-cost discussion about your claim.
What is my agent's or broker's role?

How do I keep my employees?

How do I keep my customers?

Why is a claim strategy so important?

Am I impacted by coinsurance?

What do I need to know about the insurance company's adjuster and experts?

Am I entitled to an advance from the insurance company? What is reasonable?

What does it mean when the insurance company recommends a preferred vendor? Who will this vendor actually be working for?

Contractors may tell you they can do what public adjusters can do. Can they really? What is their background and education in insurance? Are they licensed and bonded? In many states, like California, it's against the law to practice without a license!

The policy says it is your responsibility to submit a reconstruction estimate. Why would the insurer want to do it for you?

What is the difference between functional replacement and true replacement cost coverage and why should you care?

How is actual cash value determined?

Can you do the repairs yourself? Are you entitled to the overhead and/or profit that a contractor would typically charge?

What are the benefits and the pitfalls of not replacing your building?

Do you have to replace on the same site? Can you buy or build elsewhere?

Can you collect building code enhancement coverage if you build elsewhere?

How quickly can you start rebuilding following a loss?

How much of my time will this take?
How Our Public Adjusters Help You
Evaluate

Fully reviewing your insurance coverage.

Strategy

Developing a claim management strategy.

Compliance

Determining policy compliance issues.

Valuations

Completing detailed valuations of building, equipment and inventory losses.

Interruption

Formulating business interruption models.

Itemization

Presenting and supporting an itemized claim package to your insurer.

Negotiation

Negotiating on your behalf with your insurance company.

Communication

Keeping you informed every step of the way.

Settlement

Ultimately settling the claim for the maximum amount and with less hassle for you.
Industries Our Public Adjusters Have Helped
Client References & Testimonials

Client References

11805 Mayfield Association

13030 Moorpark Homeowners Association

1st Choice Pallets

3rd Millenium Inc

4455 Hazeltine Homeowners Association

49 Square

4D Development

714 Market Street Building

7700 Place Apartments

945 Elliott

A & F Engine

A B I / Accordia of California Insurance

A Pawn Shop

A&H Management

A-1 Embroidery

A-1 Performance

A1 Vacuum Cleaner

AAA Plating

Aaron & Deanne Rafferty

Testimonials

…Our business interruption loss was also quite complicated. While we were able to complete most of our current orders at that time, we suffered a substantial loss of opportunity. Our normal margin was eroded by inefficiencies due to working in a damaged facility. Your team of professionals successfully identified and demonstrated this loss by developing a model which measured and supported that loss of opportunity and allowed us to recover appropriately. …Your experts accurately interpreted our policy so that we could utilize all aspects of our coverage, and all aspects of our loss — even those which we didn't initially recognize — were skillfully measured.…

Jay R. Cope

Vice President - Gerber Childrenswear, Inc.

Case Studies

For decades, L'Auberge Chez François has been one of the leading restaurants in the metro Washington, D.C., area. Known for its exceptional French cuisine and impressive service, the restaurant is a longtime favorite of Washingtonians celebrating anniversaries, birthdays or other special occasions.

Earthquake rocks major coffee retailer. In 2000, Seattle, Washington was struck by a 7.3 magnitude earthquake, later named Nisqually. The seismic…

In late 1997, Typhoon Paka hit the island of Guam with at times, sustained winds in excess of 200 miles per hour. At that time, Continental…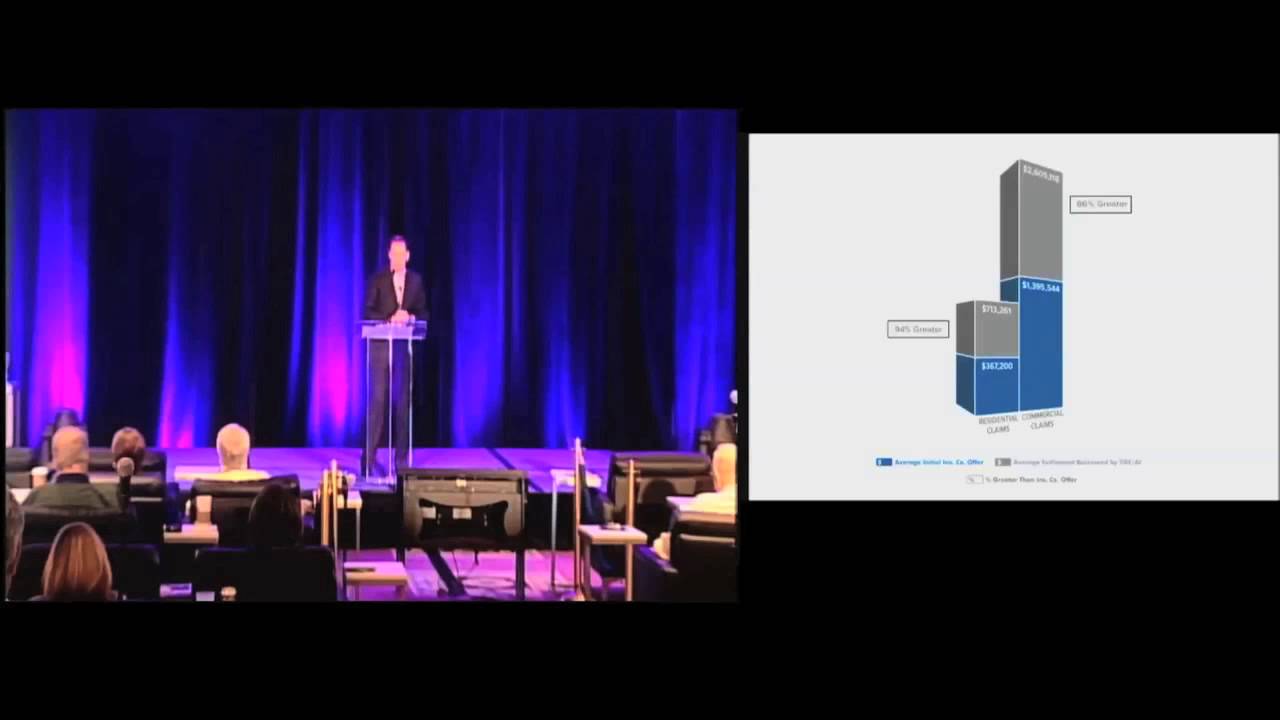 Webster's lead definition of "collapse" seems so clear and straightforward as to preclude the possibility of such an event being debatable. Yet in the field of property insurance, few concepts have been as open to interpretation...
Policyholders may not realize the benefits of hiring a public adjuster until they understand the complexities